SEXUAL HARASSMENT IN THE WORKPLACE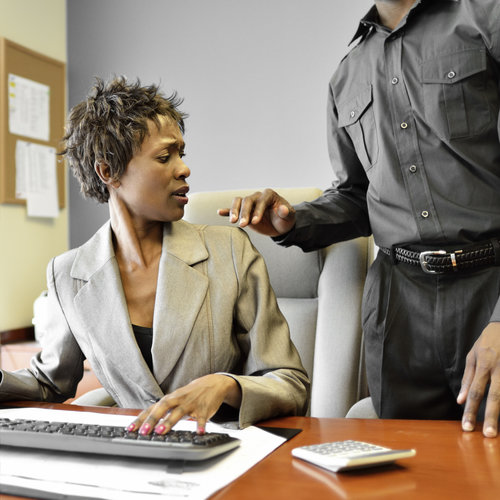 Most people still know very little about what sexual harassment means in a legal sense. What's even more troubling is that many employees believe that because they work in "at-will" states, employers can still legally fire them if they do speak up.
But, you don't have to put up with this kind of behavior, ever!
Sexual Harassment – A Type Of Sex Discrimination
Sexual harassment is a type of sex discrimination prohibited by Title VII of the Civil Rights Act of 1964 and Colorado state law when it happens at work. According to the U.S. Equal Employment Opportunity Commission guidelines, this type of harassment can be unwelcome sexual advances, requests for sexual favors, and other verbal or physical behavior of a sexual nature.
Both men and women can be the victim of sexually improper behavior and the harasser and the victim can also be the same or different genders.  In Colorado, the essential elements for proving unlawful sexual harassment are:
The victim must not welcome the harasser's sexual conduct;
The harasser's behavior must be sexual in nature; and
The violator's conduct must be such that a reasonable person would anticipate that a victim would be offended, humiliated, or intimated by the unwanted sexual behavior.
Types of Sexually Harassing Behavior
This type of harassment generally falls into two categories:
hostile work environment
quid pro quo
If conduct of a sexual nature is severe or pervasive enough to affect the terms or conditions of a victim's employment, it is generally a "hostile work environment." However, "quid pro quo," a Latin phrase meaning "something for something," involves demanding sexual favors in exchange for a benefit or avoiding punishment at work.
Keep Records
Documenting all incidents of harassing behavior will go a long way in helping to prove your case in court. So it is important to keep records of any unwanted sexual conduct in the workplace. These records might include reports, journal entries, written correspondence, emails, text messages, or photographs. Even if your harasser asks you nicely to delete inappropriate records- do not! Keep those receipts!
Consult with an Attorney
No matter how you slice it, firing or penalizing an employee for rejecting unwanted sexual conduct or reporting this type of harassment is illegal even in at-will states. Your employer is legally required to protect you from sexual harassment in any "at-will" state, including Colorado.
Navigating the ins and outs of a sexual harassment case can be extremely difficult to do without legal counsel. Livelihood law is here to help. Contact us to discuss your matter with one of our experienced employment attorneys.