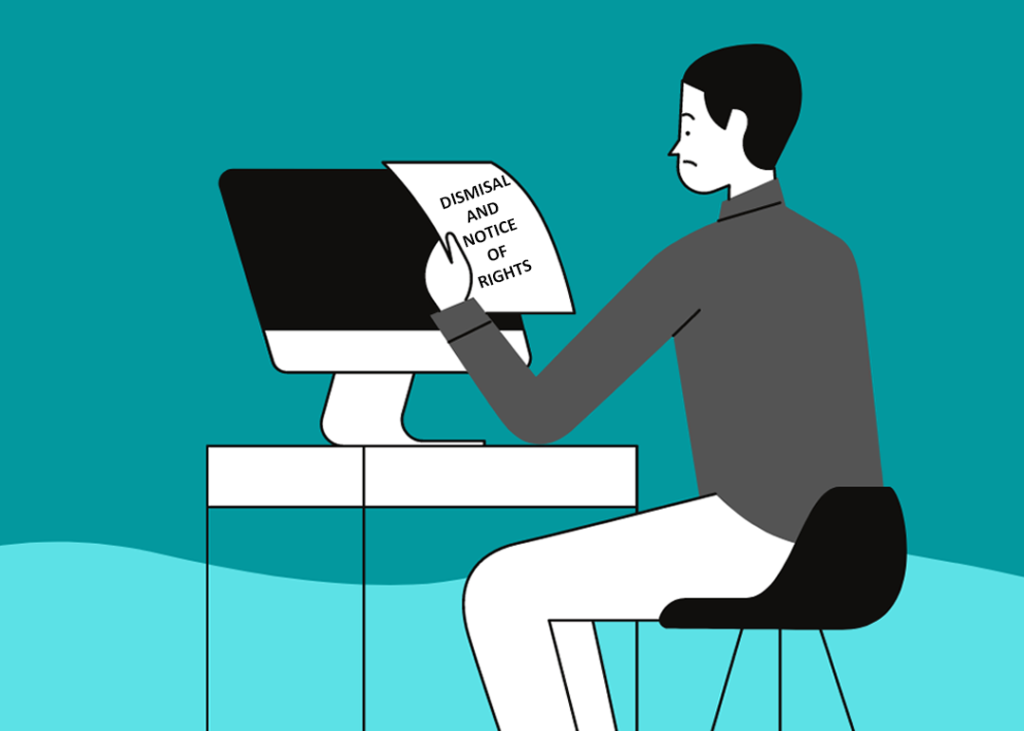 In the state of Colorado, filing a lawsuit in an employment discrimination matter is more complicated than most people think. That added complexity comes from the fact that, in most discrimination cases, employees first must exhaust administrative remedies by filing a charge of discrimination with the Equal Employment Opportunity Commission ("EEOC") or Colorado Civil Rights Division ("CCRD") and obtain a Dismissal and Notice of Rights (also called a Notice of a Right to Sue) from the agency before a court even considers hearing their case.
If you are wondering what a Notice of a Right to Sue is and how it might impact your employment discrimination matter, here are the answers to some critical questions about these notifications.
What is a Dismissal and Notice of Rights? 
A Notice of a Right to Sue ("Notice") which is also called a Dismissal and Notice of Rights, gives a claimant permission to file an employment discrimination lawsuit. The EEOC or CCRD issues the Notice after it completes its investigation into a charge of employment discrimination or harassment. An employee also can request a Notice if the claimant wishes to file a lawsuit before the EEOC or CCRD completes its inquiry.
Does the EEOC or CCRD always issue a Dismissal and Notice of Rights?  
Once charges are filed, the EEOC or CCRD issues a Notice for three different reasons:
the agency does not find that discrimination has occurred after a full investigation;
through its inquiry, the agency makes a finding of discrimination, but decides not to file a lawsuit against the employer under its own authority; or
the agency issues the Notice before it finishes its investigation based on a proper request from the claimant.
How long does it take to get this notice?
The EEOC normally takes 6 months to 2 years to investigate a charge. The CCRD normally takes 6 months to 450 days to investigate a charge.  If more than 6 months have passed since a claimant filed their charges with the EEOC, federal law requires that the agency provide the employee with a Notice if they ask for it. If fewer than 6 months have passed, the EEOC will only issue a Notice if they are unable to complete their investigation.
What Happens After You Receive a Dismissal and Notice of Rights? 
Claimants have 90 days from the receipt of their Notice to file a lawsuit in court. Though many employees might think that 90 days is plenty of time to file, claimants should act quickly. It is essential to meet with an attorney as soon as you get the Right to Sue so they have time to analyze the strengths of your claims and if a lawsuit is in your best interests.  Three months is a minimal amount of time to retain counsel and draft the necessary court filing.
Is a Notice of Right to Sue Always Required Before Filing a Lawsuit?
For the most part, if you plan to sue your employer for violation of anti-discrimination laws in Colorado, you must obtain a Notice first. But there are exceptions. If your case concerns age discrimination under the Age Discrimination in Employment Act, you do not need a Notice of Right to Sue. You may file a lawsuit in federal court 60 days after your charge was filed with the EEOC.  If you plan to sue under the federal Equal Pay Act for wage discrimination based on sex, you don't have to file with the EEOC at all. You can proceed to federal court without any additional administrative proceedings under that statute within two years from the day you received the last discriminatory paycheck.
Employment claims such as interference with the right to take leave under the Family and Medical Leave Act or Wrongful Termination in Violation of Public Policy do not require you to file a charge of discrimination, exhaust administrative remedies, and receive a Notice of a Right to Sue before filing a lawsuit.
How should you proceed with your case?
We know that moving forward with litigation is a difficult decision.  Livelihood Law is here to help. We offer flat rate assessments on employment discrimination matters where the EEOC or CCRD has completed its investigation. This assessment provides an in-depth case evaluation from our experienced employment law attorneys that you can use to make an informed decision about whether to move forward with filing a lawsuit. Contact us today to find out more.