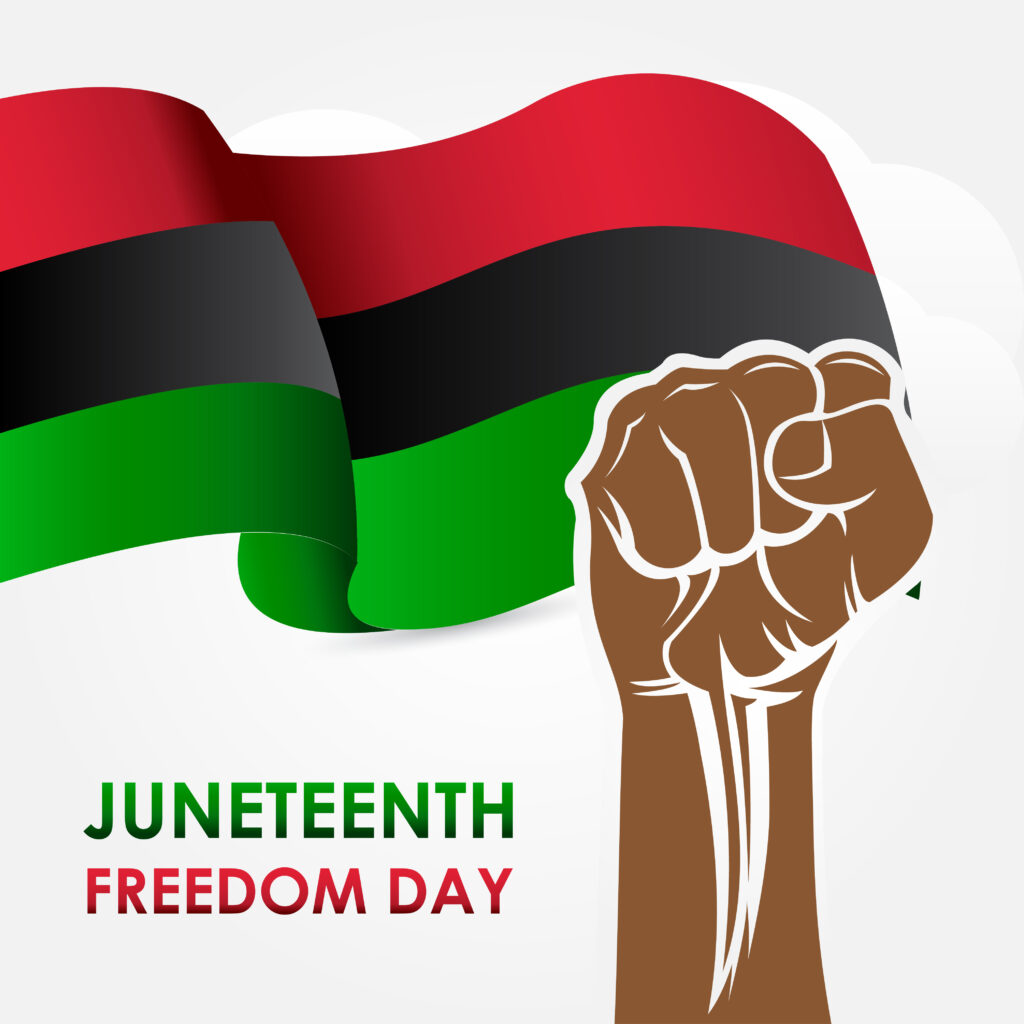 Today we celebrate Juneteenth, an often-overlooked holiday of extreme significance to American descendants of enslaved Africans. With the current protests, awareness being raised, and conversations surrounding systemic racism, it is more important than ever that we learn about and understand this important holiday.
As an employment law firm, we are regularly dealing with issues of racism in the workplace. However, we know that the workplace is not the beginning or end of the fight against systemic racism. Racism permeates through every facet of our society and we cannot just address it from one front. Understanding the environment and educating yourself on the issues is the first step towards real, systemic change.
What is Juneteenth?
Juneteenth is an American holiday celebrated annually on June 19. The holiday is also often referred to as Freedom Day, Emancipation Day, Juneteenth Independence Day, and Black Independence Day. Juneteenth commemorates June 19, 1865 when Union general Gordon Granger and a group of Union soldiers traveled to Galveston, Texas and announced to enslaved African Americans in Texas that the Civil War had ended, and they were free. This happened more than two years after President Lincoln's Emancipation Proclamation. The date of this announcement by General Granger serves as the effective end of slavery in the United States. (Although we all know that it was not the actual end of slavery.)
Juneteenth serves as a reminder of the continued fight for equality and freedom for Black people in the US. Many activists and black community leaders refer to Juneteenth as Black Independence Day.
How is Juneteenth celebrated?
The first Juneteenth celebration took place in 1866. In 1872, a group of formerly enslaved people put together $800 and purchased 10 acres of land in Houston, TX for the annual observation of Juneteenth. This location is now called Emancipation Park and the holiday continues to be recognized there each year.
In addition to the major celebration in Texas, large and small Juneteenth celebrations are held in most, if not all states on June 19. The celebrations often involve picnics, ceremonies, parades, and educational and historical services, among other events.
With the Coronavirus Pandemic, this year's Juneteenth celebrations in Colorado look different than most. But you can still celebrate the holiday in a social distancing friendly manner, through the virtual 2020 Juneteenth Music Festival. This year's Junetenth Music Festival is entirely online and will include musical performances, podcasting, a virtual dance competition, standup comedy, and more.
What can you do to educate yourself this Juneteenth?
We are strong believers that the number one thing that we can do to fight systemic racism is educate ourselves not only on the problems facing the Black community, but on what we can do to recognize those problems, fight them, and be better.
Learning about racism is a big undertaking. There's a lot to learn, and it can certainly feel daunting. So where should you start? Good news, we're here to help. We've put together our top 5 books, movies, tv shows/miniseries, podcasts, and organizations that will help you get a jump start.
These lists are by no means exhaustive. But if you're not sure where to start, pick one of these:
Books
1. White Fragility: Why It's So Hard for White People to Talk About Racism by Robin DiAngelo
White Fragility is perhaps the quintessential book for White people wanting to learn about racism. Before White people can really take on the fight against systemic racism, it's important to address our connection to racism, how we can talk about it, and, perhaps most importantly, how our reactions to racism fuel racial inequality.
2. How to be an Antiracist by Ibram X. Kendi
In this superbly researched book that's a combination of Kendi's personal experiences, ethics, history, law, and science, Kendi posits that it's not enough to be "not racist," instead we need to strive to be antiracist. He evaluates how an antiracist society would look from several different angles and how we can help build one.
3. So You Want to Talk About Race by Ijeoma Oluo
If you're looking for a contemporary and accessible take on racism in America, this is it. Not only does Oluo address white privilege, police brutality, microaggressions and the Black Lives Matter movement, among other topics, she also answers the questions that everyone struggles to ask and explains concepts in a way that appeals to both people of color and white Americans.
4. A Kids Book About Racism by Jelani Memory
With the fight against systemic racism front and center, we know that one of the big challenges is talking to kids about what is happening and what it all means. This book is a great introduction. It defines racism, explains how it makes people feel, and addresses how to spot it happening.
5. The Hate U Give by Angie Thomas
Not all books dealing with systemic racism are non-fiction and this is definitely one of the top fiction options. The protagonist lives in two worlds: the poor neighborhood where she lives and the fancy suburban prep school she attends. These two worlds collide when she witnesses the fatal shooting of her best friend at the hands of a police officer. Once you've read the book, we also recommend watching the movie on Hulu.
Movies
1. 13th (Netflix)
The 13th Amendment States "neither slavery nor involuntary servitude, except as punishment for crime whereof the party shall have been duly convicted, shall exist within the United States." This Netflix documentary painstakingly unravels the qualifying clause "except as punishment for crime" and how that clause has led to mass criminalization and incarceration of people of color.
2. Selma (Amazon Prime)
Selma chronicles Dr. Martin Luther King Jr.'s epic three-month march from Selma to Montgomery to secure equal voting rights. This heavy narrative explores the increasingly violent oppression King and others in the civil rights movement experienced before ultimately securing one of the most significant victories of the civil rights movement, the signing of the Voting Rights Act of 1965.
3. Just Mercy (Amazon Prime)
Just Mercy is based on the true story of lawyer Bryan Stevenson who forewent several lucrative job offers to fight for those wrongly convicted and not afforded proper representation. While fighting for an innocent man unjustly sentenced to death for a crime he didn't commit, and for which there was evidence proving his innocence, Stevenson deals with racism from all fronts and the fact that the system is stacked against people of color.
4. Loving (Amazon Prime)
Based on the landmark Supreme Court case Loving v. Virginia, Loving portrays the story of real-life interracial couple, Richard and Mildred Loving, who married in Washington D.C. and spent the next nine years fighting (taking their case all the way to the Supreme Court) for the right to live as a family in their home state of Virginia.
5. Whose Streets? (Hulu)
This documentary examines the murder of Michael Brown and subsequent Ferguson uprising. Told by the activists and leaders who have made the movement for justice their lives, this movie sheds light on protests and activism from the viewpoint of people involved on the ground level rather than the viewpoint of police or government.
TV Shows/MiniSeries
1. Dear White People (Netflix)
Centered around a group of Black college students at an ivy league school that believes itself to be "post-racial," Dear White People explores numerous issues surrounding modern American race relations. Part drama, part comedy, the show does a great job of showing that racism really does affect all people of color, regardless of their background.
2. When They See Us (Netflix)
A miniseries based on the true story of the Central Park Five, When They See Us explores the lives and families of the five Black males who were falsely accused and prosecuted on charges related to the rape and assault of a woman in Central Park, New York City. This is a heavy movie that takes an unapologetic look at how Black people are treated by the justice system.
3. Black-ish (Hulu)
Black-ish follows an upper middle class African-American family who lives in a predominantly white neighborhood as they struggle to reconcile their cultural identity with their surrounding neighborhood. While shows in the past have centered around black families living in the upper middle class, Black-ish is different in that the family's race is not treated as a background detail, but as a large part of their identity and something that they deal with on a daily basis.
4. The Wire (HBO Max)
Set in Baltimore, Maryland, each season of The Wire introduces a different institution, including the illegal drug trade and education system, and that institution's relationship to law enforcement. Although the show is categorized as a crime drama series, it is more of a commentary on systemic racism and wealth inequality in America.
5. Time: The Kalief Browder Story (Netflix)
This docuseries follows the story of a Black high school student in the Bronx who was accused of stealing a backpack and spent three years on Rikers Island awaiting trial, even though he had never been convicted of a crime, because his family could not afford bail. This docuseries examines racism through the lens of America's justice system tackling issues such as the school-to-prison pipeline and the inequality of the bail system.
Podcasts
1. Pod Save the People
Activist DeRay McKesson explores news, culture, social justice, and politics with fellow activists. Many of the topics covered are news stories you've probably already been exposed to, but this podcast takes a different approach and focuses on how these new stories affect people of color.
2. CodeSwitch
Possibly the most successful podcast addressing race, CodeSwitch was launched in 2016 by National Public Radio. This is a weekly podcast hosted by a revolving door of journalists of color that dissects how race impacts everything in America: pop culture, sports, gender disparities, history, politics, and more.
3. The New York Times 1619
The creator, Nikole Hannah-Jones, recently won a Pulitzer prize for 1619, which reexamines the legacy of slavery in the United States. The project was developed in 2019 to mark the 400th anniversary of the first slaves brought to Virginia and presents the often-overlooked history of Black America in a painstakingly researched manner.
4. Seeing White
Produced by the Duke University Center for Documentary Studies, Seeing White exposes the deep-rooted causes of white supremacy and racism. Instead of approaching racism as a Black issue, Seeing White focuses on how whiteness began and how whiteness has shaped the majority of American institutions.
5. Racism at Work
As employment lawyers, we are, of course, particularly attuned to racism in the workplace. This podcast addresses those issues head on with a panel of guests each week who discuss how racism manifests in the workplace and how we can all address it.
Organizations
1. NAACP Legal Defense Fund
The NAACP Legal Defense Fund works tirelessly to fight for racial justice through litigation, advocacy, and public education. While their website welcomes donations, as do the others in this list, it also provides educational opportunities by featuring reports, news, and an issue search where you can dig deeper into one topic.
2. Black Lives Matter 5280
As the local chapter of the Black Lives Matter movement, Black Lives Matter 5280 is front and center in the fight for racial justice and equality in Colorado. Their current focuses include education, economic justice, and healing in the Denver Metro Area. Their Facebook page is the best place to keep up with events and relevant news surrounding the movement in Colorado.
3. Denver Justice Project
The Denver Justice Project works with historically marginalized communities to address systemic racism by transforming law enforcement and the structure of the criminal justice system. Their website features resources on qualified immunity, your rights during interactions with law enforcement, and a history of policing.
4. Equal Justice Initiative
Founded in 1989 by Bryan Stevenson (the lawyer that Just Mercy is based on), the Equal Justice Initiative (EJI) provides legal representation to people who have been illegally convicted, unfairly sentenced, or abused in state jails and prisons. The EJI also works with communities to change the narrative about race in America and provides research to advocates and policymakers fighting for criminal justice reform.
5. Southern Poverty Law Center
The Southern Poverty Law Center (SPLC) fights hate and bigotry using litigation, education, and other forms of advocacy. Their goal is to work towards equal justice and equal opportunity. One of the most unique educational areas that SPLC provides is an area where they monitor hate groups and other extremists and expose their activities.
This list is a tiny survey of the vast number of resources available to help educate all of us on the fight against systemic racism. The most important thing is to commit to the journey.
Black Lives Matter.