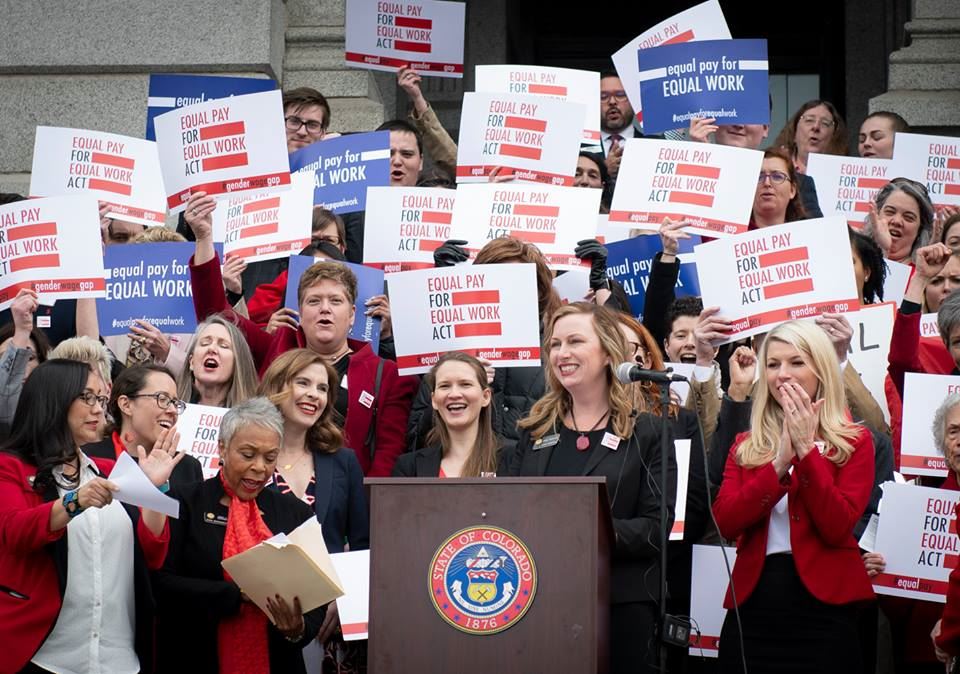 Even though the Equal Pay Act is a 50-year-old federal law, a report by the Institute for Women's Policy Research shows that pay disparity is alive and well in Colorado today. According to that report, women working full time in the state earn 86 cents for every dollar earned by a man. Over the course of a career, that 14 cents per dollar difference would pay for 1.9 years of community college or 6 months of childcare.
Because of this on-going pay inequity, a small group of women from the Colorado Women's Bar Association including Rachel Ellis, our managing partner, drafted a bill designed to close the wage gap once and for all. And on May 22, 2019, Governor Jared Polis signed that bill, titled the Equal Pay for Equal Work Act ("CEPA"), into law.
The CEPA focuses on preventing the unintentional discriminatory practices that uphold gender pay disparity and perpetuate the wage gap. Although the Act does not go into effect until January 1, 2021, here's what employees should know about the law today.
Equal Pay
The CEPA prohibits both private and public sector employers from paying different wages based on an employee's sex, or on the basis of sex in combination with another protected status (disability, race, creed, color, sexual orientation, religion, age, national origin, or ancestry). If an employee discovers they are being underpaid, they can sue for up to 3 years of back pay in district court. There is no requirement that a worker files their claim with the Colorado Civil Rights Division first.
Statute of Limitations
To be actionable, employees must file a claim under the new law within 2 years of discovering the pay gap. The CEPA requires that employers keep wage rate records for each employee for up to 2 years after they have stopped working for the organization. Failing to keep those records creates a rebuttable presumption in court that the files contain information favorable to the employee's claim.
Job Announcements
Under the new law, employers must include pay ranges on all job postings. They also must announce promotional opportunities to all employees. Employers face fines between $500 and $1000 for each violation of these transparency requirements.
Salary Questions and Interviewing
Employers can unknowingly perpetuate past pay inequities when they look to wage history in setting salaries. To combat this, the EPEW prohibits questions about a job applicant's wage history during the interview process. The Act also prohibits employers from:
Discriminating or retaliating against a job applicant for failing to disclose their wage rate history;
Discharging or retaliating against an employee for asserting the rights under the Act; or
Discharging, disciplining, discriminating against, or otherwise interfering with an employee for inquiring about, disclosing, or discussing the employee's wage rate.
Salary Exceptions
Although the Act prohibits pay discrimination, employers are not required to pay the same rate to employees with the same title. The EPEW allows for an exception to the equal pay requirement if an employer can show that they based the salaries on merit, quality of work, seniority, education, location, or travel requirements.
To Win Your Equal Pay Case
To succeed on a claim under CEPA you must prove a pay disparity based on sex or on sex plus, taking the exceptions into account. For example:
You make less money than a co-worker of the opposite sex, though your job title, work history, performance, and qualifications are the same.
You make less money than a co-worker of the opposite sex, though your job title, work history, performance, and qualifications are better.
You make less money than a co-worker of the opposite sex, and less money than a co-worker of the same sex, though your job title, work history, performance, and qualifications are the same, and you have another protected status that those co-workers do not have. This one might be the hardest to understand; for example it would apply if you are Mexican-American, and your co-workers are white.
If you need you have questions about the Equal Pay for Equal Work act or pay disparities at your job, Livelihood Law can help. Contact us today so that we can help you get the salary you deserve.